The
Jeans fit
guide
We put fit above everything else. It's why we use our best stretch-and-recovery denim, develop solutions like our FLEX Magic Waistband and have Fit Experts in every store. We believe everyone deserves that amazing feeling you get when you slip into your best-fitting jeans ever.
FitExperts | since 1904
how should jeans fit?
You told us.
You want jeans that don't gap in the back.
So we developed FLEX MAGIC - our revolutionary new stretch waistband with stay-put technology. It's so comfortable and so forgiving, you'll think it's magic.
You want jeans that make your booty pop.
So we placed our pockets purposefully (and perfectly) for maximum effect.
You want jeans that are comfortable all day.
So we created unique, stretch-and-recovery denim that moves with every sit, stand, bend and confident stride you take.
Jeans size guide
Find your size:
Waist
Bend to one side to find the natural crease. Straighten and measure at this point.
Low hip
Stand with feet together and measure around fullest part of hip.
Find your length
Petite: Women 5'3" and under
Short: Women 5'4" and under
Regular: Women 5'3" to 5'7"
Long: Women 5'8" and over
If you're on the borderline between two sizes, order the smaller size for a tighter fit or the larger size for a looser fit.
View Jeans Size Chart
X
Size
Waist
Low Hip
10
32
40.5
12
34
42.5
14
36
44.5
16
38
46.5
18
40
48.5
20
42
50.5
Size
Waist
Low Hip
22
44
52.5
24
46
54.5
26
48
56.5
28
50
58.5
30
52
60.5
32
54
62.5
Jean fits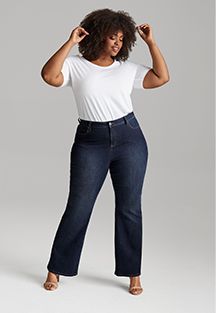 Curvy fit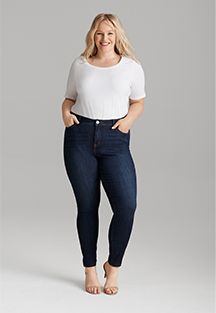 Signature fit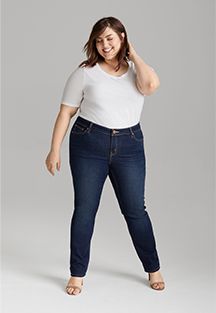 Deluxe fit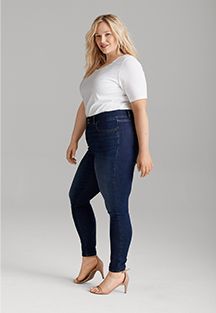 Tighter tummy fit
Leg Shapes
Skinny
Straight
Boot
Trouser
Jegging
How to care for your jeans
Lane Bryant jeans are machine washable, because when you're living life at full speed – ease is everything! That said, there are a few helpful how-to's and denim care tips to help you get the most out of your jeans.
For a longer life, launder them less. Lane Bryant jeans have ah-maz-ing recovery and retain their shape, so they don't need to be washed after each wear. Plus, washing less can help prevent fading. Of course, whether you go 3, 5 or 10 wears before washing is totally your call. But less laundry always feels like a win, right?
To evade the fade, wash on cold. Setting you washer to cold not only helps save on your energy bill, it's good for your jeans! The cold cycle can help keep your blues from fading. Turning jeans inside out before you toss them in the wash is also a good idea – just don't forget to check the pockets.
Air dry your denim, when you can. Sure, we all know air drying jeans is the best practice since high-heat dryers can be rough on jeans. But we get it – not everyone has time to air dry. As a compromise, try hanging your jeans inside on a rack to start, then toss them in the dryer on low heat to finish them off (and soften them up).