The
Jeans fit
guide
We put fit above everything else. It's why we use our best stretch-and-recovery denim, develop solutions like our FLEX Magic Waistband and have Fit Experts in every store. We believe everyone deserves that amazing feeling you get when you slip into your best-fitting jeans ever.
FitExperts | since 1904
how should

jeans fit?
you told us…
You want jeans that don't gap in the back…
So we developed FLEX MAGIC — our revolutionary new stretch waistband with stay-put technology. It's so comfortable and so forgiving, you'll think it's magic.
You want jeans that make your booty pop …
So we placed our pockets purposefully (and perfectly) for maximum effect.
You want jeans that are comfortable all day …
So we created unique, stretch-and-recovery denim that moves with every sit, stand, bend and confident stride you take.
YOU WANT JEANS THAT WORK FOR your BODY
Your preferred rise. Your dream inseam. A fit made to love your curves. We've. Got. Options — like petites, long (+ extra long) lengths & three incredible fits to choose from.
Jeans size guide
Find your size:
Waist
Bend to one side to find the natural crease. Straighten and measure at this point.
Low hip
Stand with feet together and measure around fullest part of hip.
Find your length
Petite: Women 5'3" and under
Short: Women 5'4" and under
Regular: Women 5'4" to 5'8"
Long: Women 5'8" and over
Extra Long: Women 5'10" and over
View Size Chart
low hip
waist
Jean fits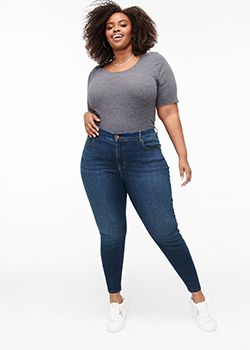 Curvy fit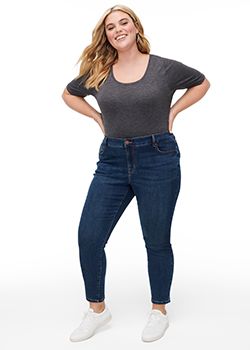 Signature fit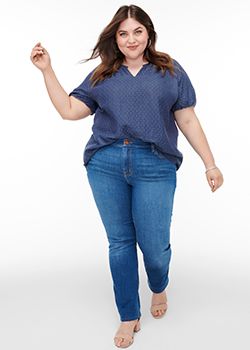 Straight fit
Leg Shapes
skinny

Formfitting from hip to hem.

Available fits: Signature, Straight & Curvy.

Shop Skinny

Jegging

Straight

Streamlined from hip to hem.

Available fits: Signature, Straight & Curvy.

Shop Straight

Boyfriend

Relaxed with a flattering taper at the calf.

Available fits: Signature.

Shop Boyfriend

Boot

Slim through the thigh. Kick flare at the hem.

Available fits: Signature, Straight & Curvy.

Shop Boot

Flare

Slim-fitting through the hip & flared from knee to hem.

Available fits: Signature.

Shop Flare

Wide Leg

Relaxed through the leg with our widest leg opening.

Available fits: Signature.

Shop Wide Leg
Style with solutions
As women designing for women, we believe that the shortcut to chic sometimes calls for a little extra help: shaping, smoothing and slimming secrets to name a few. So, with your feedback and requests in mind, we give you solutions for whatever you need, without sacrificing an ounce of style.
flex magic
waistband
Works like magic to give you a defined waist that won't gap or stretch out. You'll feel comfy and secure, while looking smooth and pulled together, even at the end of your day.
Secret
slimming
Our high-rise Tighter Tummy technology gives you a smooth tummy, defined waist and a booty lift too.
How to care for your jeans
Lane Bryant jeans are machine washable, because when you're living life at full speed – ease is everything! That said, there are a few helpful how-tos and denim care tips to help you get the most out of your jeans.
For a longer life, launder them less. Lane Bryant jeans have ah-maz-ing recovery and retain their shape, so they don't need to be washed after each wear. Plus, washing less can help prevent fading. Of course, whether you go 3, 5 or 10 wears before washing is totally your call. But less laundry always feels like a win, right?
To evade the fade, wash on cold. Setting your washer to cold not only helps save on your energy bill, it's good for your jeans! The cold cycle can help keep your blues from fading. Turning jeans inside out before you toss them in the wash is also a good idea – just don't forget to check the pockets.
Air dry your denim, when you can. Sure, we all know air drying jeans is the best practice since high-heat dryers can be rough on jeans. But we get it – not everyone has time to air dry. As a compromise, try hanging your jeans inside on a rack to start, then toss them in the dryer on low heat to finish them off (and soften them up).
Women's Jeans Fit Guide
"How should jeans fit?" – it seems like a simple question, but it's one that often doesn't have an easy answer. You always want jeans that enhance your curves, right? You prefer jeans that provide day-long comfort, and you need jeans that that make you look sexy and stylish. Jeans that give you the confidence that you are unstoppable. The real question is: Is finding the perfect pair of jeans that you love wearing too much to ask? Not here. We've spent decades becoming Fit Experts, conducting extensive research with thousands of real women, selecting best-in-class fabrics, and designing built-in support with comfort technologies that make you want to reach for these jeans every time you get dressed. We make it effortless for you to determine whether different jeans fits are right for you with easy-to-use resources. You can quickly and easily navigate our large selection of styles and designs to find the jeans that will lengthen your legs, slim your figure, and hug your curves. On this page, you'll find a women's size chart, jeans fit and fashion details for curvy, signature, deluxe and tighter tummy styles, and also get info on how different leg shapes will give you the look you want. You can also use our True Fit Guide, found alongside every item description, to help you determine your proper fit. It's a fast, free, no-fuss way to ensure you're getting the ideal fit when you shop online – it only takes less than 60 seconds! Additionally, a Size Guide on each page provides at-a-glance help with measurements, sizes, length, and style. Whether you're wondering how tight jeans should be in the waist, hips and thighs, or which styles and leg shapes will provide you with the dependable comfort and curve-hugging silhouette you want, you can rely on our jeans guide to help you determine how your jeans should fit.
Questions About Different Jean Fits? No Problem
Our Jeans Fit Guide gives you all the ins and outs you need to select the perfect plus size jeans for your shape, including how you can expect different fits to conform to your shape, and flatter your curves. Our curvy jeans are designed for those who are smaller in the waist with curvier hips and thighs. Our signature fit jeans are popular for those who are of average proportion, with a slight curve from waist to hip. Deluxe fit jeans flatter women who are fuller in the waist and smaller in the hips and thighs. Choose our Tighter Tummy Technology (T3) jeans if you're looking for jeans that firm and flatten your tummy, while slimming and smoothing your waist. How should high-waisted jeans fit? In a word, magically. They offer a flattering silhouette by lengthening your legs, shaping your body, and highlighting your waist. In addition to describing how jeans should fit women with different body types, our women's Jeans Fit Guide offers you instructions on how to care for your jeans to give them longer, fade-free lives.
Once You Find Your Fit, Complete Your Outfit!
Once you've determined the jean styles and leg shape that is right for you, you're ready to start thinking about how you're going to finish your outfits and enhance your look. Though our jeans feature our exclusive Flex Magic stretch waistband that is comfortable, forgiving and won't gap in the back, you may want to accessorize with one of our fashion belts to wear over a tunic top, over a long scarf, or over a cardigan. Whether you choose a faux leather belt with an interesting buckle, a studded belt or one with an exotic print, you're sure to find one that matches your personal fashion sense. Scarves are a great way to add a pop to an outfit and can be worn in a variety of ways, around your neck, at your waist, or looped over your purse. You can also illustrate your style and personality with jewelry, perhaps a pendant necklace, hoop earrings, a chain bracelet or any of the other gorgeous pieces you'll find in our large accessories selection. Sunglasses often serve as a statement piece, and can be worn multiple ways, providing eye protection, dangling from your shirt or resting on top of your head. And of course, the right shoes are an important part of any denim look. Flats are often a go-to with jeans, but pretty much any footwear that's comfortable and fashionable will work. Sandals, block or ankle strap heels, booties and even high boots – the choices are endless here at Lane Bryant. Your style awaits.